Reflective analysis sharing event
Graduate School of Education, University of Exeter, November 2014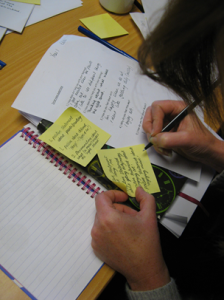 This half-day workshop was an important 'catch-up' event, with time for schools to update each other on the progress of their enquiries – after a visual mapping exercise, as well as input on approaches to coding data and ways to communicate research findings. Everyone was asked to bring along examples of research evidence, which included questionnaire responses, interview transcripts and photographs; there were also lots of coloured pens, Post-its, and biscuits! Margo and I were pleased to receive some very positive feedback, evidenced in these comments from the teachers:
''Really helpful to come together, reflect, share practice and connect ideas, with the addition of questions, challenge and ways forward from you.''
''Made sense of what we've been doing…set scene for some great ideas for 'back at school' for further using pupil voice to improve curriculum.''
''It was really useful to meet up with the other schools and hear how their action research is going along and any issues/ questions that they had. The opportunity to practise/ start coding was good. It would be great to hear/ see more of Margo's creative writing/ story memos.''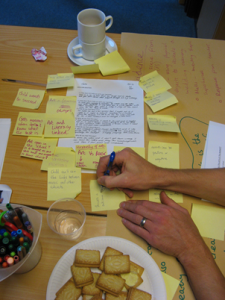 ''Very helpful…nice to hear what other schools are doing/ stage they are at etc…nice to talk through what we are doing, formulate next steps etc.''
''Good networking and discussion. Useful clarity on coding.''
 ''It was really interesting to hear about the other projects and how they were collecting their data. The guidance and the opportunity to have a go at coding were very helpful.''
 ''Potential chance for us to step back, look and challenge our own position and next steps…''
''It's been useful to meet and talk to so many other teachers who are involved in action research. It was especially helpful to 'code' photos and hear how research can grow or needs to be tightened up.''
''I have a clearer understanding of where my research is going. Have left with next steps.''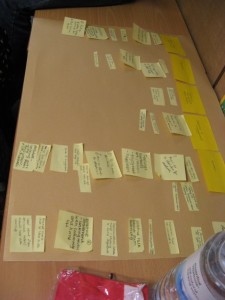 ''Very interesting and useful. Really helpful listening to ideas and thoughts of others. Opportunity to fine-tune and improve our research.''
 ''It's been brilliant having more time to talk with the other schools rather than just spoken to through a PowerPoint. Many thanks.''
One teacher appreciated the usefulness of talking to others, but suggested that it would be helpful to have shorter spaces between meetings and some more structure to the project. We are acting on these points, with more support being offered to the teachers face-to-face in their schools and an interim meeting planned before our next scheduled event.
Dr Emese Hall & Dr Margo Greenwood